Huna Totem Corporation and Partners Support Hoonah City Schools with Connectivity Project
Huna Totem Corporation has partnered with Royal Caribbean Group and Norwegian Cruise Line Holdings, along with the City of Hoonah, SnowCloud Services and Dell Computer to support Hoonah City Schools. Parents were welcomed at an open house for the new school year on Tuesday evening, September 8th, which included a presentation on the School Connectivity Partnership.
Working together, the partnership identified the needs and solutions for students for online learning needed for the upcoming school year. The partnership put laptops in the hands of students who need them, donated hardware and internet access equipment, expanded broadband access and increased points of service throughout Hoonah, and worked to support internet services fees.
"This project is going to ensure that our students are successful when and if we must transition to online schooling," said Superintendent Ralph Watkins. "The fact that each of our students will have a laptop and internet available to them is huge!! Students will be able to be accountable for their own learning and have access to teacher videos and classroom lessons."
"Technology gives Hoonah students a digital connection to learning," said Russell Dick, President and Chief Executive Officer of Huna Totem Corporation. "We are proud to support our students and keep our schools here in Hoonah digitally up-to-date."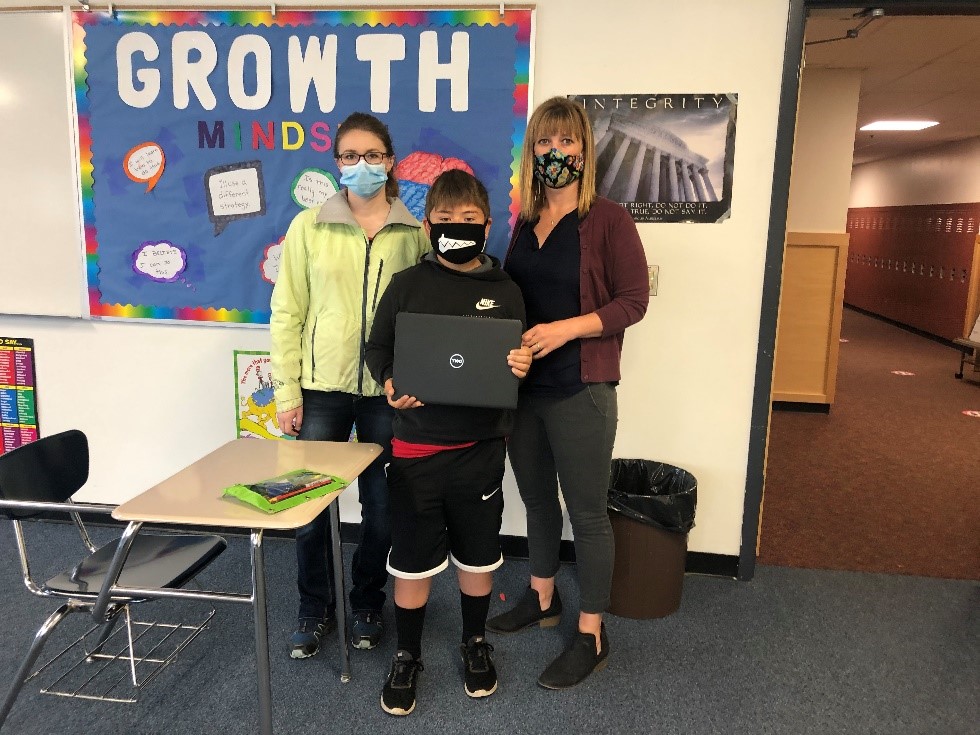 Photo: (L to R) Board Member Amy Courtney, Student Gerred Garrison, and Teacher Renee Gray with a new Dell Laptop.