12 Days of Christmas Giveaway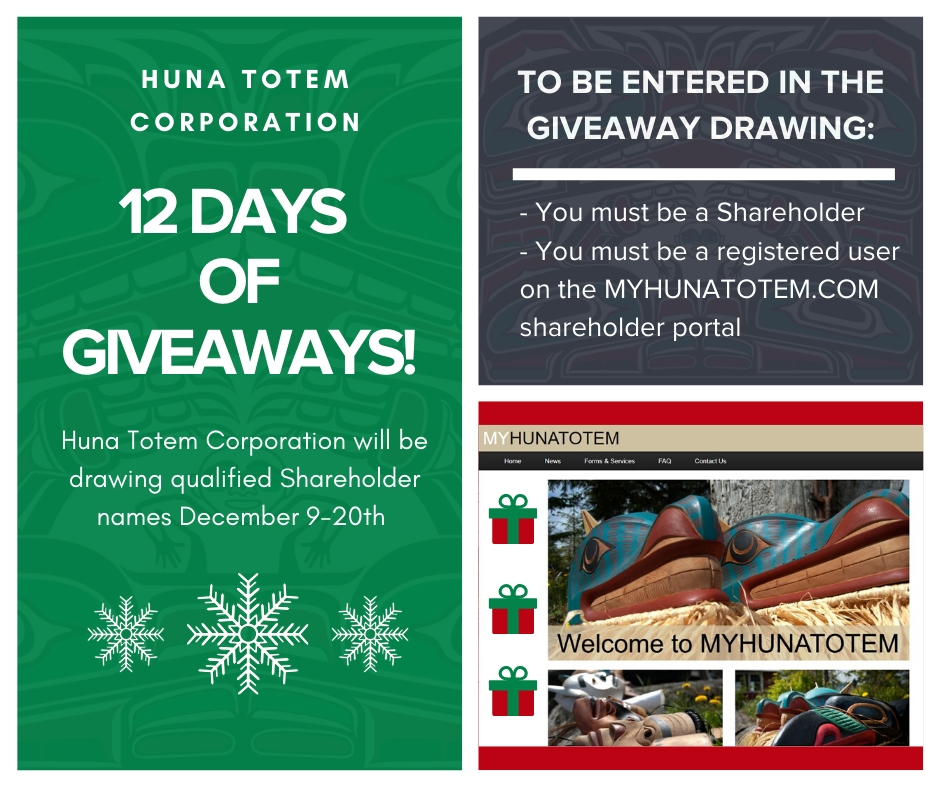 Huna Totem is doing a 12 day giveaway to increase users on the MyHunaTotem shareholder portal. While you are logged in be sure to check to see if your information is up to date for 2020. We will be drawing one lucky winner every day between December 9-20th. Be sure to tune in to view the winners!
Winners:
Dec. 9th - Day 1 - Carissa Mills won the Heritage Coffee Gift Basket
Dec. 10th - Day 2 - Anna Larue won the Christmas Baker's Set
Dec. 11th - Day 3 - Nena LeBlanc won the Smoked Salmon Gift Set
Dec. 12th - Day 4 - April Hetrick won Natural Soaps and Devil's Club Goodies
Dec. 13th - Day 5 - Leslie Dalton won framed Eagle and Raven prints
Dec. 14th - Day 6 - Tallon Westlake won Barnacle Seafoods Gift Box
Dec. 15th - Day 7 - Matthew Brown won the Cozy Set
Dec. 16th - Day 8 - Kimberly Revels won a family game night set
Dec. 17th - Day 9 - Terra Veler won the Christmas Movie night box
Dec. 18th - Day 10 - Treston Lafferty won a $50 Visa Gift Card
Dec.19th - Day 11 - Benjamin Johnson Jr., won a $50 Visa Gift Card
Dec. 20th - Day 12 - Johanna Church won a Dellanos Coffee Box
Happy Holidays Everyone and Thank You for Registering on the MyHunaTotem Shareholder Portal!